This is one of my favorite dishes to make! I've messed around with it multiple times and finally got it just right. The best way I know how to describe the flavor is "rich" and "earthy." It's one of those things you just have to try- trust me.  This recipe makes about 4-5 servings and does a great job of keeping its flavor. In fact, I almost think it tastes better after sitting in the fridge overnight! But that might just be me.
I like to use Trader Joe's yellow curry sauce for this recipe, but any yellow curry sauce/paste will work perfectly! The fresh ginger is also key to bringing out the flavor of the dish. It gives it a slightly spicy yet warm undertone.
When choosing a pan to cook with, I recommend using one with high sides to it. When adding the curry sauce to the onion-garlic-ginger mix, it can tend to splatter and pop a little bit before the coconut milk is added but a pan with higher sides will help control the splatter.
This curry tastes great on its own, but it's also great with rice! You can either mix the rice into the whole pot of curry or add it individually to each serving. I like to add rice to it for more volume.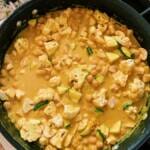 Print Recipe
Chickpea Vegetable Curry
Ingredients
2

tbsp

Olive oil

1/2

cup

Chopped onion

2

tsp

Minced garlic

2.5

tbsp

Minced ginger

1/4

cup

Yellow curry paste

I use the Trader Joe's brand!

1

can

Coconut milk

1.5

tsp

Turmeric powder

1

tbsp

Low-sodium soy sauce

2

tbsp

Maple syrup

You can also sub for brown sugar!

2

cups

Cauliflower

1

cup

Zucchini

1

cup

Mushrooms

15 oz

can

Chickpeas
Instructions
Before starting the stove, go ahead and chop up the onion, cauliflower, zucchini, and mushrooms. Set aside the cauliflower, zucchini, and mushrooms.

If you're using fresh ginger root, chop it up into small pieces and set it aside with the onion. Fresh ginger root is key to this recipe. I've used this minced ginger before and it also works great!

Heat 2 tbsp olive oil in a pan and then add in the chopped onion, minced garlic, and fresh ginger

Saute for 2-3 minutes, stirring frequently

Add the curry paste and the coconut milk into the pan and continue to stir until fully combined

Add in the turmeric, low-sodium soy sauce, and maple syrup and stir well for about 60 seconds

Add in the cauliflower, zucchini, mushrooms, and chickpeas. Stir well and then cover.

Keep the cover on and cook for about 12 minutes, stirring every 2-3 minutes.

When it's done, it can be eaten as is or mixed in with rice!