Carrot cake is one of the most delicious and most underrated cakes, in my opinion. But, it's hard to commit to baking a whole entire cake, and then having a ton of leftovers sitting around. The solution: turn a carrot cake into a donut! This way, there aren't too many leftovers sitting around to spoil, and it's super easy to bake a new batch if you want more! I love to bake these and then pair one with scrambled eggs or Greek yogurt for breakfast. If you're baking them to share, you can easily double the recipe.
In this recipe, I used half whole wheat pastry flour and half almond flour. It was the PERFECT combo. Sometimes, using only almond flour can cause the donuts to be too moist and fall apart while using only pastry flour can make them too dry. The almond flour adds enough fat content to help keep the donuts moist and fluffy, while the gluten in the pastry flour holds them together.
This donut recipe is actually very similar to my gingerbread donut recipe, with just a few changes.
These donuts can be made with just almond flour or just whole wheat pastry flour. I do recommend that if you make them with only whole wheat pastry flour, you add in an extra tablespoon of cashew butter or a tablespoon of oil to help them stay moist. A lot of carrot cake recipes also add walnuts, which you can definitely do for these! I'm personally not a fan of walnuts and so that's why I decided to leave them out of my recipe.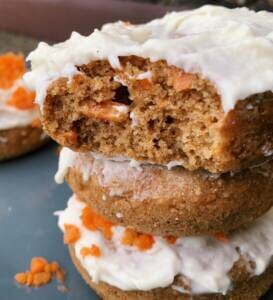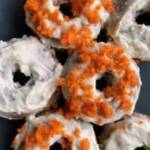 Print Recipe
Carrot Cake Donuts
Ingredients
Donuts
2

eggs

2

tbsp

Maple syrup

1/4

cup

Brown sugar

1

tbsp

Cashew butter

Any nut butter will work!

1

tsp

Vanilla extract

1/2

tsp

Fresh minced ginger

1/2

cup

Whole wheat pastry flour

1/2

cup

Almond flour

1

tsp

Baking powder

1

tsp

Cinnamon

1/2

tsp

Ground ginger

1/4

tsp

Ground cloves

1/4

tsp

Nutmeg

3/4

cup

Ground carrots
Cream Cheese Frosting
4

oz

Cream cheese

2

tbsp

Butter

1/2

cup

Powdered sugar

1/2

tsp

Vanilla extract
Instructions
Donuts
Preheat oven to 325 F. Using an electric mixer, mix together the eggs, maple syrup, brown sugar, cashew butter, vanilla extract, and fresh ginger.

Next, add in the almond flour and the whole wheat pastry flour.

Once the flours are combined, add in the cinnamon, ground ginger, ground cloves, nutmeg, and baking powder.

In a food processor or blender, pulse a handful of baby carrots a few times. Scoop out 3/4 C of the chopped carrots and add it to the donut mixture. Mix until combined.

Bake the donuts for about 15 minutes or until a fork/toothpick comes out clean. Let cool before adding the cream cheese frosting.
Cream Cheese Frosting
Set out 4 ounces of cream cheese and 2 tbsp butter for about 30 minutes to soften. 

Tip: if it's still not softened enough after setting it out, you can microwave it for 20-30 seconds.

Add the cream cheese and butter into a medium sized bowl. Beat them together with an electric mixer.

After the cream cheese and butter are combined, add in the powdered sugar and mix until the consistency is smooth. 

Lastly, add in the vanilla extract and mix until combined.