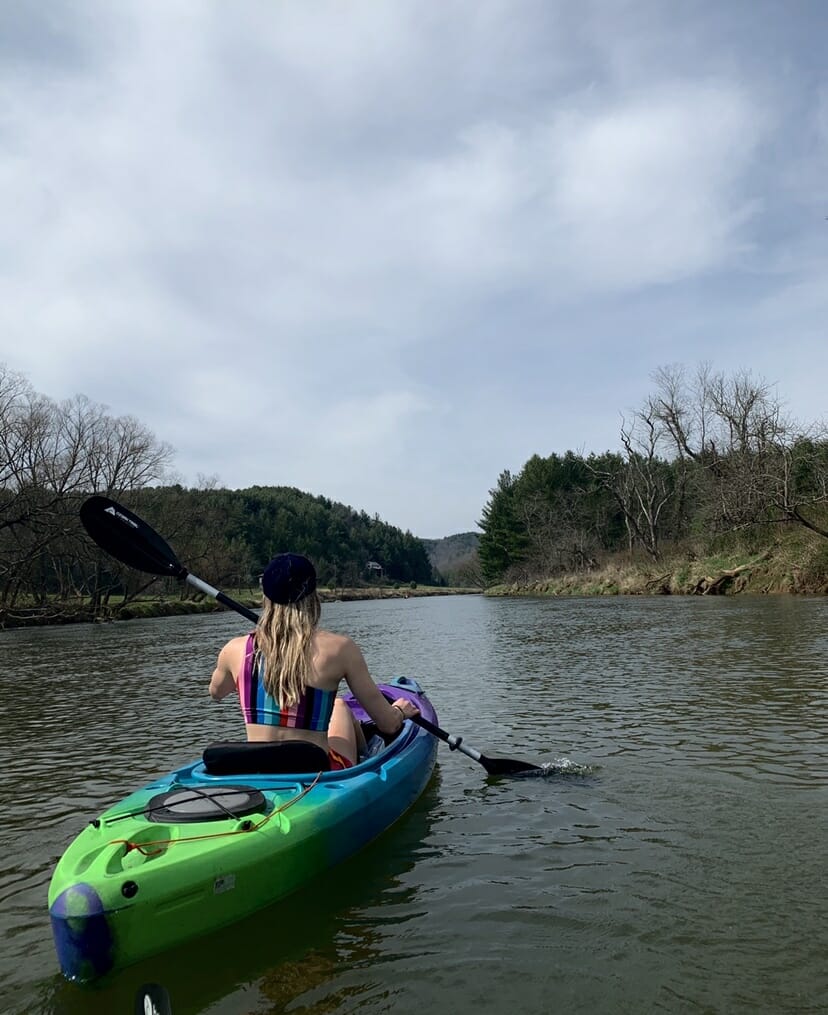 These past few weeks have been something else. Truly, none of us expected this to happen. I feel like I'm Phil from Groundhog Day, waking up each day only to re-live the day before. Aside from my senior year being ripped away from me, I'm sitting in a limbo also known as being waitlisted for speech therapy school. Will I get in? It's time to start coming up with a plan B.
I wish I could rewind to right before spring break, before all of this happened. I wish I would've known that everything was about to change because maybe then I would have been a little more thankful. But they say that the day before life changes as we know it is just another day. That's the thing about life.
I used to complain a lot about Boone.
"There's so much traffic, I can never get anywhere on time."
"It's so windy and cold here I can't stand it"
But I wasn't ready to leave. As much as I complained at times, I love my little mountain town. I love the amazing community that surrounds it. Being 10 minutes away from the Blue Ridge Parkway. I love all of the local restaurants and coffee shops. $3 burgers at The Cardinal on Thursday. Local beer and fresh pizza at Lost Province. Half price sushi rolls at CoBo on a Saturday night. A warm, homemade donut and freshly roasted coffee at Local Lion. I wasn't ready to say goodbye.
My senior year came to an abrupt end. It hadn't been my best year in terms of having my life together, but all the same I wasn't ready for it to end. I complained a lot about my major because I had completely changed my career plan, and my current major had nothing to do with it.
"I don't even want to have a career in nutrition, I'm wasting my time here."
"I want to be a speech therapist but I'm stuck finishing my nutrition classes."
But I wasn't ready to leave. As much as I complained at times, I'm thankful for my education. I'm thankful for all the people I got to meet during my undergrad, even if it isn't leading straight to the destination I wanted. It still hasn't set in that I'm not going to be walking across the stage in May. Sure, I can go back and walk for graduation in December but it won't be the same. I keep forgetting that in a little over a month, I'll be graduating college. I'm not ready to leave.
One of the hardest goodbyes I've had to say was to my gym. To RevFive5 Fitness/Hellbender Barbell- you changed my life. Truly, I could not imagine where I'd be right now if I hadn't have found Olympic weightlifting and this community. I'm thankful to have my little home gym set up right now so that I can still lift but there's something missing, and that's my community.
Every day I showed up to the gym and it felt like home. I tried to "quit" weightlifting so many times because of my frustration but the community support from this gym kept me grounded and allowed me to remember why I started. I can't express my love for this place enough without wanting to break down in tears. RevFive5 Fitness will forever hold a place in my heart. I'll never be ready to say goodbye.
I went back to Boone today to turn in my parking pass for a refund. While I was there I found myself sitting in my car in the RevFive5 Fitness parking lot, aching to go inside. I went to my apartment to get the rest of my food and some clothes and I found myself standing in the doorway, not wanting to leave. I'm not ready to say goodbye.
I don't know what's next for me. Perhaps I'll find a job somewhere in the high-country after graduating and be blessed to keep living here. Perhaps someone will give up their spot in the SLP program and I'll be fortunate enough to be an ASU grad student. Or perhaps I'll move home and find a job in the city. I really don't know. But what I do know is that Boone and all of the people that have impacted my life will always have a special place in my heart. Throughout my senior year, I knew that eventually, I would have to say goodbye to this special place I've called home for the past 4 years. But I didn't know how hard it would hit me until my senior year was abruptly taken from me.
Wherever you are in life, whether you still have another year of undergrad, if you just started your career, or if you've been working the same job for 20 years, be thankful for where you are. Life can change instantly as we know it. If this whole Coronavirus situation has taught me anything it's this:
Slow down.
Start where you are.
Be thankful for what you have.
Stop taking even the smallest things for granted.